Northern Laos, Luang Prabang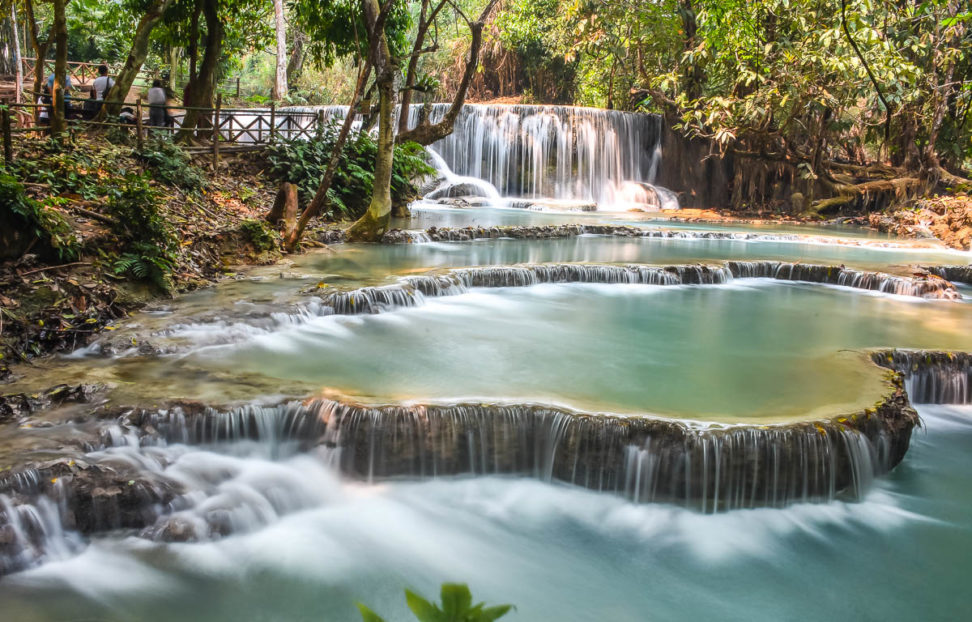 I had my reservations about taking a minivan for the four hour journey north on hellish roads but there were few other options. Fortunately our driver was pretty good and took things at a safe pace which is extremely rare for an Asian minivan driver. The road snaked up into the mountains but the higher the elevation the thicker the haze appeared, which was a shame as it obscured what would otherwise have been epic views. On arrival at Luang Prabang bus station we got stung for the first time on the trip and, as usual, it was a tuk tuk that overcharged us wanting 40k per person (almost $20 total) for the few kilometer hop to the hotel, naturally we told him where to go.
The first two things I noticed about Luang Prabang were the prices for pretty much everything were a fair bit higher here, and most of the signage was in Chinese. In fact Chinese was spoken as much as Lao here which took away my linguistic advantage. It is the Phuket of Laos, consequently everyone is out for a buck and being a UNESCO World Heritage Centre virtually gives anyone license to fleece the tourists. If Thailand is losing western tourists they're all here, the place was mobbed, though predominantly French. I first visited Luang Prabang in the late ninety's when it was a rustic little ex-colonial village with bicycles being the predominant method of transport. Today it is a sprawling town with a vibrant tourist center that still retains some of that old world charm.
We decided to rent some bikes to make getting around easier but even they were a sting, the highest price quoted was 140k LAK (550 baht) a day to rent an auto scooter. Added to that pain was the fact that most rental places were Chinese and they insisted on keeping your passport as a deposit citing the fact that motorbikes are so expensive in Laos. Managed to get a couple of under-powered Honda Waves for 80k (300 baht) per day and we'd use them to ride out to the waterfall the following day.
Kuang Si waterfall is about an hour's ride west of Luang Prabang, the road is pretty good for most of the way. This is probably the area's top attraction and as expected was very busy, mostly younger farangs though, many wearing virtually nothing irrespective of local cultural etiquette. Entrance was a mere 20k (70 baht) which is a fraction of what Thailand would charge to see something similar. The falls are spectacular to say the least, even in dry season, with several tiers dropping into turquoise limestone pools that were swimmable if you could brave the temperature. On the road back we stopped at a little riverside restaurant that we assumed was a local spot, it turned out to be on the tourist trail and was soon packed with farangs.
The evening was spent wandering around Luang Prabang's night market which the better half enjoyed way more than the boys and I did. No end of handicrafts, souvenirs, lacquer ware, textiles, trinkets and t-shirts were on sale. An each as much as you like vegetarian buffet in the food market was rammed with backpackers getting their fill on the cheap. I was beginning to feel that two decade age gap.
Admittance to the town's botanical gardens would cost over $100 for all of us so I found a nature park around 10km away. Most of the way was off-road and our little bikes were getting battered, fortunately there was virtually no other traffic and we had the Nahm Dong Park to ourselves when we arrived. Again entry was ridiculously cheap at 20k (70 baht) each and the place was professionally setup and managed. The big attraction here was almost a kilometer of zip-lines running through the jungle so we had to give that ago at $15 each. This place was a hidden gem, it would have been far more spectacular in the wet season though when all the rivers and falls are running, the foliage is lush, and the air is clear.
Back in town we took a walk down the river front in the evening and enjoyed a Mekong sunset with a cold one as the tour boats plied the lazy brown waters. The following morning involved a climb up Mount Phousi which is home to a sprawling temple complex and offers good views across Luang Prabang … if you could see through the smog. An amble through the old quarter would have been better without the tuk tuk mafia constantly hounding us, the only place we have encountered this over the past three weeks.
Back into town late afternoon by pedal power on some cranky bicycles from the hotel, we wanted to grab a boat out on the river for our last night in Laos. They're not difficult to find and 500 baht lighter we were chugging up river in our own charter with a bottle of imported French wine watching the sun slip lower casting a glistening red hue over the Mekong. It served as a great way to end a great trip, Laos leaves you relaxed and wanting more but it was time to head back to Thailand and the aftermath of another messy rigged election.
Previous: Vang Vieng Part 1, Vang Vieng Part 2