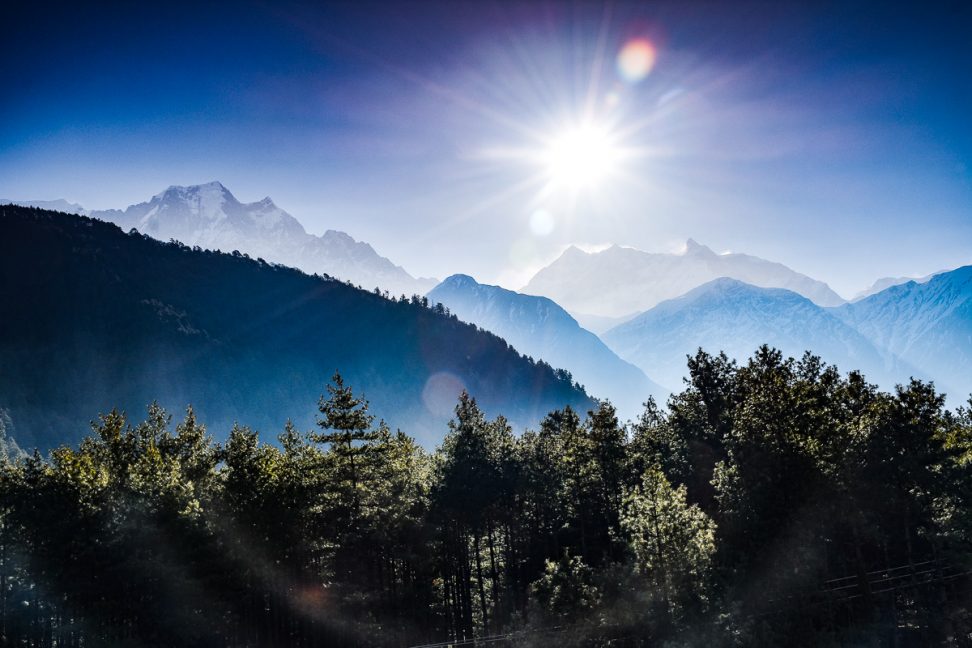 Day Four
The next morning yielded an even more spectacular view as the 6,920 meter Tukuche Peak revealed itself to the north in the crystal clear morning light. Next to it was the seventh highest mountain in the world, Dhaulagiri I at 8,167 meters.
We had not seen this mountain yesterday due to the heavy cloud in that direction. I was back on the roof again shooting as the wind blew snow drifts of the peak into the crisp cerulean sky.
I took a walk to the next village which was also largely deserted; you really get a feeling of isolation up here as the living conditions are much tougher, and this was springtime.
I was reluctant to leave this special place at the Kalopani Guest House but the road beckoned and today would take us across the Himalayas and to our highest point on the trip at just below 4,000 meters.
We motored out through tiny rural villages that were taking on a more Tibetan appearance than Nepalese, and tackled another suspension bridge that was a breeze compared to the one in Kushma. It was here that we had the first flat of the trip which allowed for another photo session.
This was more of a back road route as there was no traffic on it and a lot of the riding was on goat paths only wide enough for a motorcycle … and goats. Since the distance wasn't too great today it would be all about stopping for photo opportunities – and there were a lot of them.
The coloured Tibetan prayer flags were becoming a prominent feature of the landscape. Each colour signifies an element and the flags are always arranged in a specific order, from left to right: blue, white, red, green, yellow. Blue represents the sky, white the air, red fire, green water, and yellow symbolizes earth. All five colours together signify balance.
We motored on to a flat expanse which appeared to be the bottom of the valley for a group shot with one epic backdrop and some gratuitous bike porn. Following the photography we powered across the valley floor to a tiny ramshackle village where we could refuel from Coke bottles. The locals would wander out to see what all the fuss and dust was about and we were soon on our way again as the torpor of rural life resumed.
We rode through the picturesque town of Marpha with its tiny medieval stone paved alleys and Tibetan stone houses, and on to Jomsom where our permits were stamped for entry into the Lower Mustang area.
Previous: Day Three
Next: Muktinath