Air Asia had no direct flights from KK to Bangkok so instead of wasting a day at the hellish KLIA2 for the transfer we stayed in the city for a couple of nights. For anyone that hasn't been to KL the airport is 70km away from the city so be prepared for a long ride in!
We stayed at the Citrus Hotel which unbeknownst to me was in the Indian sector … which meant a lot of curry! Right next to the hotel was a fantastic little local restaurant offering Pakistani food and top notch naan bread; we could all eat well for under ten bucks.
I last visited KL in 1998 so it was interesting to see the changes; essentially a lot more transport links now with a skytrain, subway and monorail, getting around is cheap and easy (if you avoid the taxis).
It was time to do some touristy stuff so we set out for a walk heading to Merdeka Square then onto the butterfly park which I remember from before. This time it seemed a little smaller and worn out, or maybe that was just me and the effect of a prolonged time on the road altering perspectives.
A ten minute walk up the hill took us to the KL bird park which I was looking forward to seeing again. This time around though it was very commercial, very touristy and a lot more expensive to get in than I remember – Malaysia certainly has its hand out for the tourist dollar and dual pricing is rife. Once inside though these things are forgotten as you marvel at the multitude of species housed in what is touted as the world's largest walk-in aviary.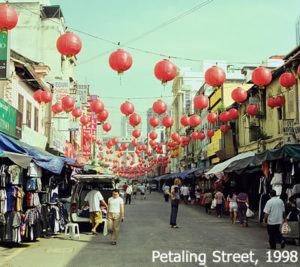 I wanted to go back to the old China Town market at Petaling Street to see how that had changed over the years so we jumped on the skytrain and headed two stops over.
Today it is a full on commercial tourist night market selling everything from MotoGP t-shirts to die cast planes to roast chestnuts. They have gone to town with the lanterns and given it a covered roof, no doubt to keep the tourists hemmed in there even when the tropical rains are hammering down.
We sat down at a local restaurant and enjoyed a cold beer and some crispy duck while watching the throng surge by. On the way back we found ourselves in some Chinese procession of sorts where deities were carried down the streets adorned with brightly coloured flags.
The following day we headed to Chow Kit station and jumped on the monorail over to KLCC to investigate if going up the twin towers was possible. As I expected there was a three hour wait and an inflated fee of almost a hundred dollars for the four of us to spend 15 minutes up on the sky-bridge.
We headed through the park and over to the KL aquarium instead which was equally expensive but a bit more to offer for your buck. I've been to a lot of aquariums and this one was one of the more impressive, with the longest sub-aqua tunnel I've seen.
We were on our last afternoon so decided to give the Petrosians Science Discovery Center a look since it was educational and not a complete rip off to get in (53 MYR for all four of us). It turns out this was one of the best things we did – the place was huge and we ended up spending all afternoon there – plenty of interactive and educational activities for kids and adults. They even had a driver education and awareness centre where you could test your observational and driving skills – something that Thailand desperately needs!
The hotel tried to rip us off on an aiport taxi by double charging as it was early in the morning but I managed to book one online using go2klia.com which proved to be a cost effective and reliable service.
Having been to Malaysia three times now I think this will be our last – living in Southeast Asia you get to know the value of things and their worth which makes getting stung as a tourist at almost every opportunity in this country a little harder to swallow.