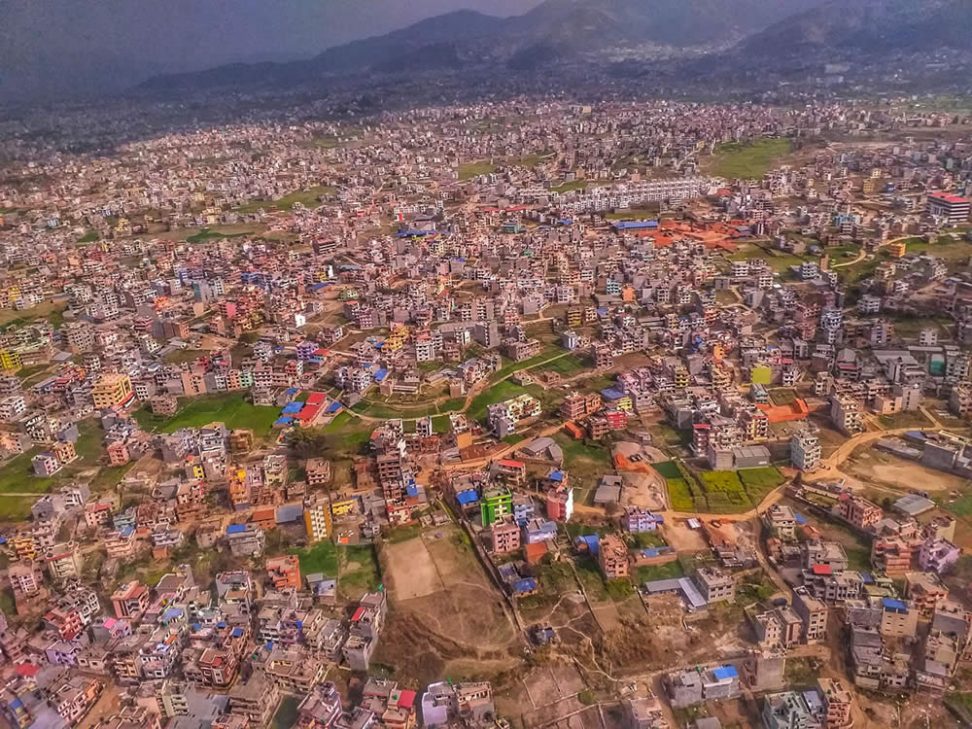 Nepal. It was a crazy idea from the start. An acquaintance had been there on some wild motorcycle ride "into thin air" in the Himalayas so I decided to follow in his footsteps, or wheel tracks to be more precise.
The trip was booked and planned in April last year so I had plenty of time to get prepared and psyche myself up for what would be the ride of a lifetime, a 'bucket list event'. The six day trip would take us into the Annapurna Conservation Area in the Himalayas on Royal Enfields from Hearts and Tears motorcycle club in Pokhara. I would be in country in total for about two weeks.
The timing however could have been better as the Coronavirus outbreak had brought the world to a standstill with travel restrictions coming into force. Unperturbed, Tony and I braved Don Mueang airport in Bangkok which was virtually deserted and boarded the three hour flight to Kathmandu.
Kathmandu
From the air the city looked like someone had emptied a giant bucket of Lego bricks over the landscape. A sprawling mass of multi-coloured blocks as far as the eye could see made up suburban Kathmandu. The devastation from the 2015 earthquake was clearly still evident five years later and there was very little high rise here. The visa on arrival was quick and easy, $30 for 15 days, $45 for 30.
On the ground it was a different story, a seething mass of people and vehicles all jostling for position. Coming from Thailand the temperature drop was noticeable and it actually went below ten degrees on the first night during which I froze. We headed out to a local expat hangout called Sam's bar for a few Ghorka beers to begin this Nepalese peregrination.
Thamel is the traveller and tourist district of Kathmandu and my first day there was a wet and cold one. Tiny twisting alleys and streets are lined with textiles shops, trekking suppliers, tourist tat, money exchanges and quirky little courtyards with coffee and beer. Prices for food and accommodation were noticeably cheaper than Thailand while beer was similarly priced.
I headed for the roof of the hotel for a great view over the city and my first glimpse of the Himalayas which was absolutely breathtaking.
Kathmandu to Pokhara
It was time to get on the road and head west to the lakeside town of Pokhara to pick up the bikes. I wondered how a 200 kilometer journey would take six hours but after a short stint on the road it became clear.
Hundreds of buses and trucks were battling for road supremacy on a single lane twisty road with more craters in it than the moon. Driving lunacy appears to be a prominent feature in all Asian countries and Nepal is no exception though there are far fewer accidents than in Thailand where everyone is obsessed with being first. The journey reminded me of roads in north Sumatra and the madness that comes with them.
The scenery was pretty spectacular as the road hugged the hillsides of one huge valley with a raging river cutting down the center of it. Snow covered peaks started to reveal themselves and I knew I was somewhere special. I managed to grab a few roving shots from the vehicle but we didn't stop specifically to do so hence the low quality.
Finally we rolled into the tourist town of Pokhara in mid-afternoon and checked in to our lakeside hotel a few hours before heading to the clubhouse for trip briefing and to meet our fellow riders.
The Hearts and Tears team were very professional and made the seven of us on the trip feel at ease from the start. We would be spending six days on the road on Royal Enfield 'Himalayan' 411 cc single cylinder machines. These Indian adventure tourers didn't look like much but they were built like tanks, and for good reason.
The route would take us south into the valleys for a couple of days before turning north into the Annapurna Conservation Area climbing to an elevation of around 4,000 meters. It would be an early start so just a short stroll around the largely deserted town before bed this evening.
https://www.heartsandtears.com/
https://www.royalenfield.com/in/en/motorcycles/himalayan/
Next: Day One