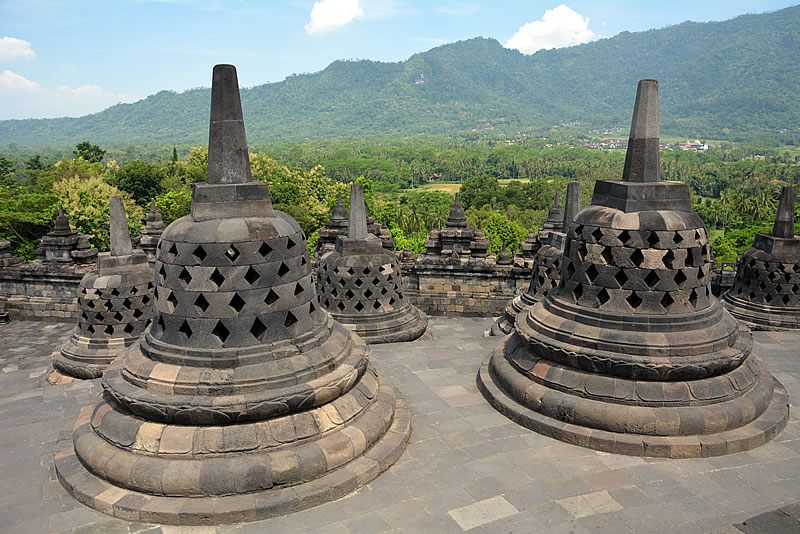 We had planned to do very little on our first day in Yogyakarta (pronounced locally as Jogja), so the pool at the Puri Pangeran hotel made a good excuse for just that. In the afternoon we took a walk to Malioboro Street which is the main tourist strip for shopping. I was expecting something similar to Kuala Lumpur's Petaling Street where you can sit at a side cafe with a beer and watch the world go by.
Being Indonesia beer was not available, and neither were roadside cafes, there were people asking if you wanted a taxi every 6 seconds though. The street was literally lined with t-shirt vendors, thousands of them, so unless you wanted a t-shirt, some Javanese Batik or handicrafts there was little else here. A t-shirt saying "I don't want a fuggin taxi" would have been useful.
Organised day trips and tours are ridiculously expensive in Indonesia (compared to Vietnam or Thailand), but we had little option unless we wanted to trudge around temples in the roasting heat all day – there was little else to do in Jogja.
We opted for a half day river rafting excursion followed by a visit to the main attraction for the area; Borobudur temple. The rafting turned out to be great fun, something I'd never done before and the kids loved it. The rapids were pretty tame but it was a blast nonetheless, the only downside was the shocking amount of trash that lined the Elo river, one of the many that flows down from the ever looming Merapi volcano.
Borobudur
Taxis from the city to Borobudur were a sting as it is the most touristy place in Java (and Indonesia for that matter), we combined ours with the river trip to save a few hundred thousand rupiah. Before our driver had even stopped the vendors and hawkers were pulling the doors open and thrusting hats, umbrellas, selfie sticks and all manner of unwanted crap into our faces.
Borobudur has two entrances, a hot long queue for the locals who get in for a peanut, and an air-conditioned hotel-type foyer for the foreigners who have to fork out $20 each. It is touted as the biggest Buddhist temple in the world and dates back to the 9th century. The colossal monument consists of nine stacked levels topped by a central dome surrounded by 72 perforated bell stupas.
The place was impressive but having visited Cambodia's Angkor Wat and Burma's Bagan it didn't measure up to them in my opinion. Maybe we were there at the wrong time of day, early afternoon has far fewer crowds, but is stiflingly hot and the light was too bright for photos. Sunrise is when most people visit.
Seeking some rest-bite from the punishing midday sun we found shade on the lower levels and were able to marvel at the intricacy of the reliefs and stone carvings. An hour or two is about all you need here, and we were funneled through a labyrinth of alleys and stalls selling tourist tat that stretched for over a kilometer to get back out.
As the road trip drew to a close we had one final day and decided to fly back from Jogja via Jakarta rather than taking a train across Java and spending a night in the traffic clogged capital city.
We'd seen and done a lot over the past three weeks having visited 14 different places which included beaches, volcanoes, coral reefs, waterfalls, Hindu and Buddhist temples, lakes, villages and cities. It was time to head home.