Down The Mekong in Cambodia – Angkor Wat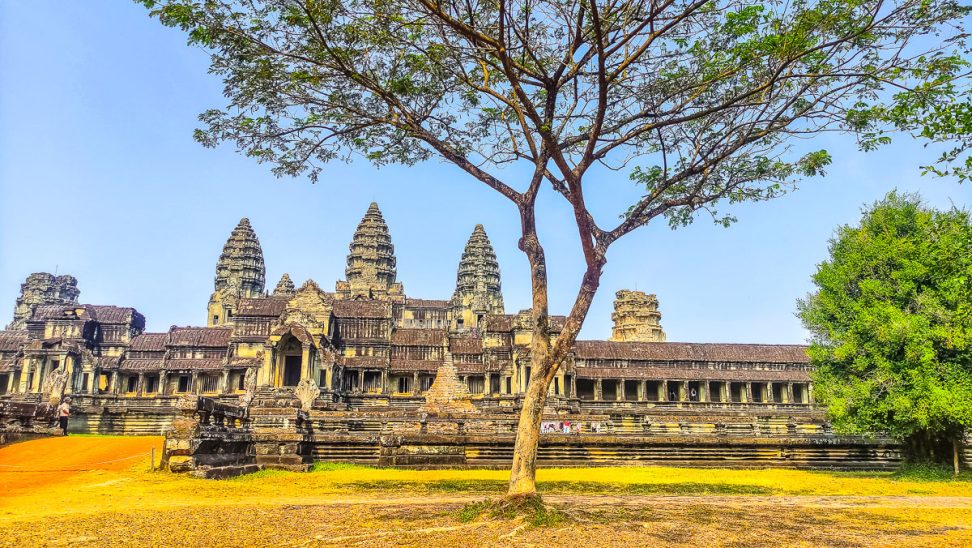 The last time I visited this epic religious site was in 1999 when it was very hard to get to so very few people made it there. Today, the place is Cambodia's biggest tourist destination attracting more than 2,500 people per day.
Instead of taking motorcycles, we'd opted for a tuk-tuk for the day for $20. It is all very well organized with a visit to the swanky ticket office first to secure a one-day pass for $37. Three and seven-day passes were also available. Your photo is scanned and the date is on the ticket to prevent misuse and it was checked frequently around the vast complex.
While the main temples of Angkor, The Bayon, and Ta Prohm were very touristy and busy, they are large enough to escape the crowds and find a spot of solitude in this epic ancient city. Around 800 years ago, Angkor was the largest city on earth and is still the largest religious monument in the world. There was a lot of restoration work going on with new walkways and steps installed.
Being 24 years older than I was the last time I walked around this immense medieval city, I found the searing heat quite oppressive, especially in March. Having a stout and whisky-induced hangover that was being sweated out in pints didn't help matters but we managed to see five different temple complexes with some monumental steps and climbs spanning several square kilometers.
The last one, Ta Prohm, was the most popular aside from Angkor itself. This is due to the trees growing through the ancient structures … and it featured in the Tomb Raider movie. The authorities had built a "selfie platform" and a queue of people was waiting to photograph themselves in front of the most iconic structure. Even the monks wanted a selfie!
I compared two photos I took almost a quarter of a century apart and concluded that the first one was better when I was the only person in the temple.
The heat of the day had beaten us and it was time to return to Siem Reap for a cooling dip in the pool and a sundowner. Angkor didn't fail to impress the second time around, even if it was crawling with tourists, touts, guides, gardeners, vendors, officials, restorers, cleaners, and monkeys – it is a very spiritual place.