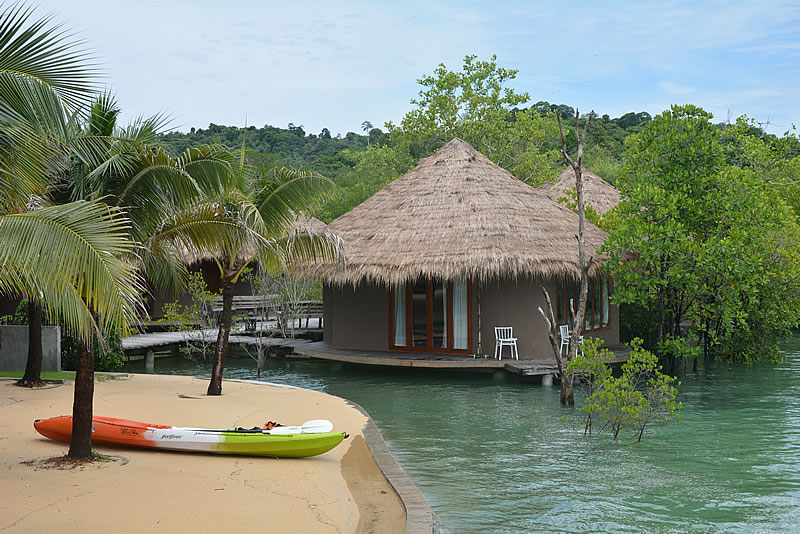 A long weekend meant only one thing; road trip time. The road to Ranong from Chumphon is still being repaired; it has been under construction as far back as I can remember travelling on it which is well over ten years ago. That said, the drive was pleasant enough as most are when you get off Thailand's "lunatic alley" (highway 4). A quick pit stop at Thapli where the road is lined with sarapaoand dimsum vendors filled empty stomachs.
We stayed a night in Ranong as the ferry over to the island departed in the morning. Our resort – "Thansila" – was at the hot springs a few kilometers out of town, nothing overly special but the river proximity provided the kids with enough entertainment.
Before the notorious Ranong rain settled in we took a drive up the valley to the Ranong Canyon which I'd always wanted to visit – turns out it is just a lake full of fish that you can feed and no real canyon to speak of. We took the winding road back down to the hot springs for a look around – the area is undergoing major renovations with new walkways being installed and foot-bridges across the river. The day was rounded off with a visit to Siam Hot Spa, a bargain at 150 baht ($5) where you can enjoy the hot and cold tubs, steam room and sauna to relax away the day's pains.
Up and out by 08.30 we headed into town in search of the ferry pier which was not that easy to find if you've never been there. Essentially driving through the city, to the fishing port area and all the way to the end of it until you run out of land will get you there – the departure point is called "tai kaek pak khlong pier". A very enthusiastic ticket sales woman helped us with parking, assuring us that it was very safe, and even sent someone out to get some food for the kids who hadn't had breakfast yet. Tickets were 200 baht for adults, kids free, journey time around an hour and a half.
The ferry was scheduled to leave at 09.30 … by 10am we were still sitting there waiting for some hi-so Thais to sort out their iPhones, YSL bags, and gold ray-bans before actually joining the rest of us on the vessel. Once all passengers were on-board the police turned up, photographed a few things and came on to ensure we were all wearing life jackets … all very serious. Finally the engines rumbled into life and we headed out … across the harbour to the marine police boat, they then came on-board, made a quick announcement, photographed a few things, and ensured we were all wearing life jackets. All very Vietnamese in its safety efficiency and something I've never seen in Thailand, obviously another junta introduced incentive.
After disembarking, we thought it smart to book the return journey on the speedboat considering that it was a long weekend and there were more Thai tourists than farangs travelling here. Tickets for this were 350 baht each, journey time 30 minutes, messing about; zero … a no-brainer in my book!
A motorbike taxi for 60 baht took us across the island to the Chomjan Resort on Haad Kwai. There are no cars on Koh Phayam so all roads are single track concrete for bikes only.
The view from the bay was impressive with a Mergui Archipelago back drop including the Burmese islands of Hastings, Zadetkyi, Than and hundreds of smaller islets visible from the empty beach.
It was evident pretty quickly that the island was deserted and 80% of the resorts and restaurants were closed for the low season. Huge green and blue swathes of tarpaulin cloaked beach bungalows and rustic reggae bars which, in a different month, would usually be teeming with 'glampackers' and travellers. The downside of this was that there was little choice or variety for eating out – the upside being we had the place to ourselves! As the first day drew to a close we left the kids to play in the surf and settled in on our little beach with a couple of cold tinnies as the sun dropped over the tantalisingly close, but still out of reach, Mergui Archipelago.
We investigated a boat charter for a little free-diving and fishing but they were disproportionately expensive at 3,000 baht ($100) for 3 hours, needless to say we rented bikes instead!
A drizzly morning and seriously high tides did not look promising, we braved the breakers to head down to The Sun, the only beach front restaurant that was open, for breakfast. Walking back felt like we were on a different beach and different island, the sea was rough and had literally trashed the beach; bottles, shoes, styrofoam, fishing traps, oil containers and all manner of crap had washed up. Now it dawned on me why everything closes at this time of year.
Undeterred we headed into the rustic little town on the resort owners decrepit old Honda to rent a couple of motorbikes and explore the island. There are no cars and no cops here so getting around is safe and hassle free, even for novice riders. People had turned their rickety wooden homes it makeshift gas stations selling over-priced bottles of petrol to motorcyclists that didn't have enough to cover the 12km length of the island. We rode along single track concrete paths in various states of repair to the end of Ao Yai to find it desolate and devoid of life, everything on the busiest beach on the island was closed.
Appearing like some kind of grotesque monument to the amount of trash that gets washed up here someone had nailed hundreds of flip-flops to the trees. Back on the bikes we headed into town again for some lunch before exploring Ao Mae Mai and having a five star ice-cream in the most expensive resort on the island; Blue Sky. This is where all the nouveau-riche, selfie obsessed Thais were hiding. We made a quick exit and ventured up the piers to see what the fishermen had caught only to be told that the sea was as devoid of life as the rest of the island today.
Back on the road we headed to the northern end of Ao Yai in hope of finding a little beach bar for a sundowner. It too was bleak and abandoned, and looked as if a tsunami had just hit it; piles of trash on the beach, dilapidated bungalow resorts overgrown with weeds, and a beach bar half collapsed into the sea. This island must undergo an immense transformation and cleanup operation every year.
We rode back to our own beach, cracked a cold one and sat back to enjoy another Archipelago sunset. Dining that evening was in our own resort where the restaurant was actually open, the staff were all Burmese and the food was very good, though no Myanmar Beer.
After checkout the following day, we rode back to the Blue Sky Resort for some photos to find it almost inundated by the high tide. Touted as the 'Maldives in Thailand' rooms at this place go for 8,000 baht per night. As midday approached we dropped off the bikes and jumped on the twin engined rocket ship that would get us back in Ranong in no time.
I would like to explore Koh Phayam when more of it is open, but then the isolation and tranquility you get with an empty beach devoid of iPad toting glampackers, couples, and selfie snapping Asians would be lost amongst the reggae, tattoos, pancakes and marijuana that high season will inevitably bring.