Campervan Around Japan – Guides and Tips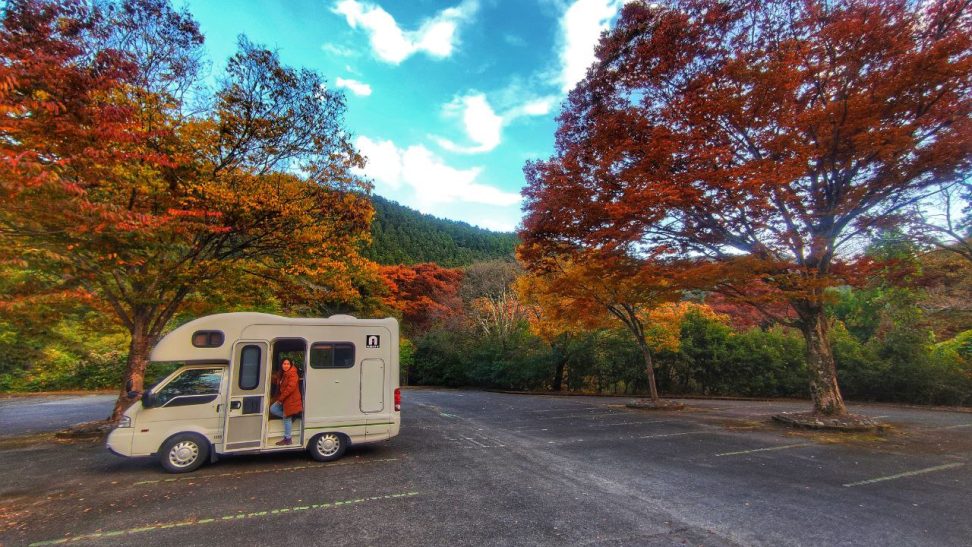 The following guide has been compiled after spending a week on the road in Japan in a campervan/motorhome. We started in Tokyo before heading to Mt. Fuji, then north to the Nagano area and Japanese Alps taking in Kamikochi, the Alpine Route, and Matsumoto before heading east to Chichibu and returning to the capital.
Toll Roads and Expressways
Japanese expressway toll roads are expensive. When on them, use only the green gates if you don't have an ETC card, you can pay by credit card or cash. Do not come off the expressway at 'ETC only' exits which are indicated with a purple sign if you don't have an ETC, you won't be able to exit (we found out the hard way).
Be careful using Google Maps which will take you on and off toll roads to save a few minutes and avoid traffic, but it could work out expensive as you'll pay every time. It cost us over 6,000 yen in tolls to drive from Tokyo to Mt. Fuji following Google Maps!
Fuel Stations
Fuel stations are machine-operated which don't have English but there are usually staff around to help you. They also often only take cash to be prepared because your card may not be accepted. Regular fuel (petrol) is the red nozzle and the price varies depending on how remote you are.
Road Stations (Michi no eki –  道の駅)
Designated rest areas or road stations are dotted all over Japan. They usually have a farmers market during the day and 24-hour toilet facilities and vending machines. The shops generally close at 5 pm but you can park a motorhome there overnight for free and use the toilets which are very clean.
There is a certain etiquette required when staying at Michi no eki. Generally try to arrive late and leave early to avoid the daytime users, they get busy at weekends. Don't leave bags of trash there and dispose of it gradually, though you can leave recyclables in the bins provided. Keep quiet because there will be other people overnighting and sleeping in their cars or vans at road stations. Don't wash your dishes in the bathrooms!
We found this user-created map very useful
Campsites
Popular Japanese campsites such as those around Mt. Fuji get very busy at the weekends. Moreover, you need to book them and they have check-in and check-out times, just like hotels. Additionally, campsite booking websites seldom have English so booking them can be a challenge.
Campsites offer a number of advantages over road stations. These include shower facilities, power to charge your van batteries, and often barbeque facilities and places to wash dishes. However, costs can add up since they charge per vehicle and per person and hike prices during peak periods so if on a budget, Michi no eki is the way to go.
General Driving
Driving in Japan is generally very easy compared to other Asian countries such as Thailand or Vietnam. Speed limits are low (80kph on expressways and 40-50kph on regular roads) and everybody obeys them so driving is relaxed. Japanese drivers are very courteous and non-aggressive so 'road rage' doesn't exist here.
Parking the van can be a challenge in cities but outside them space and parking spots are plentiful. Despite the population, traffic is generally not heavy in Japan aside from rush hours in cities due to its highly efficient public transport network.
Japan is very mountainous so again be careful when using Google Maps which may take you over a very twisty single-lane mountain route, down a tiny back street, or through a quiet residential area to save a few minutes. We found it better to navigate manually than to allow Google Maps to do it. Motorhomes are heavy lumbering beasts so will use twice as much fuel on mountainous roads than on highways, make sure you fill up before taking these routes (which offer spectacular views and scenery).
Van Life
There are a few things to be aware of when living out of a campervan in Japan. Trash disposal can be a challenge as most places only have recycle bins and not ones for general trash so get rid of it as you go when you can in the correct bins when you see them.
Showers are generally only available at campsites so be prepared to go a few days without one if staying at Michi no eki. Laundry services are also few and far between so make sure you have enough clothing. Take advantage of Onsens (hot springs) when you find them, they offer full showering, and hot bathing facilities for very little cost, and yes, you have to go in your birthday suit!
Local supermarkets and smaller outlets such as 7-Eleven, Family Mart, and Lawson have a good selection of cheap but tasty ready-to-eat meals for areas where there are no restaurants. Speaking of restaurants, they have very specific opening times which are not always adhered to but there is always a minimart nearby if you find them mostly closed as we did!
If staying in the mountains it can get cold outside and inside the van so make sure you have appropriate clothing and blankets for the evening.
Campervanning around Japan is a great way to see off-the-beaten-track places, get a taste of rural Japan, and avoid crowds and tourist traps. It is a very rewarding experience for those wanting to discover the real Japan.
We would like to recommend Japan Road Trip for making our week's motorhome experience possible.
Full trip report to follow …