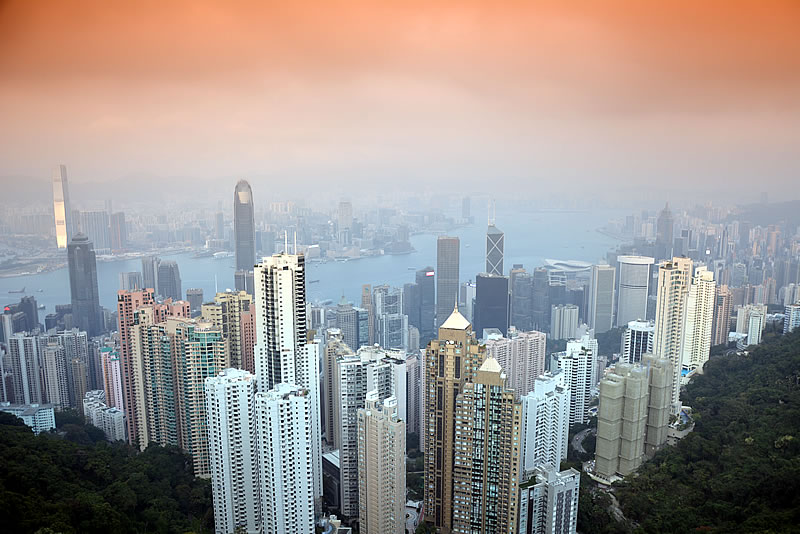 I'd always wanted to visit Hong Kong but never envisaged I'd be going there on a business trip. The airport is like a city in itself, complete with railways and all the amenities … very efficient, a taxi into town stings at $HK340 – I'll take the train next time!
First impressions are of a huge construction site – bridges, overpasses and yet more buildings are still going up here at a phenomenal rate. I stayed in the financial district on Hong Kong island, between Admiralty and Wanchai, which is effectively a concrete and glass forest of buildings. All perfectly efficient and fastidiously cleaned – a world apart from Bangkok where I had just left.
Navigating your way around the labyrinthine cluster of sparkling tower blocks is no mean feat and involves traversing elevated walkways, going through glitzy shopping malls and heading up and down countless escalators; a GPS is of little use here!
The people are all frowns and business, detached from the world around them and permanently plugged in to their smartphones – eye contact and human interaction is an outdated concept here – welcome to the future.
After two days of meetings and a very enjoyable luncheon at the Hong Kong Foreign Correspondents Club I was free to explore a bit of the city so ventured out armed with my Nikon and a few filters. A walk along Hennessy Road and through Hong Kong Park offered a slice of serenity amongst the bustling crowds and their ever increasing drive for capitalism and more bling. Immaculately kept greens, lakes and wooded areas are shadowed by glass monoliths emblazoned with the likes of Merrill Lynch.
Exiting the park brought me to the tram station for The Peak, the highest 'mountain' on the island at 552 meters. The jostling throng of selfie obsessed mainland Chinese tourists at the ticket office almost deterred me from going but I was there anyway so took my place amongst them. An hour later I crushed onto a rickety red tram for the ascent through blocks of apartments clinging precariously onto the hillside.
I'd bought a ticket for the Sky Terrace for an extra few dollars and glad I did as the views over the city and across to Tsim Sha Tsui was spectacular – also breathtaking was the cold wind that whipped around the viewing platform! Plenty of photo opportunities presented themselves as the sun dropped over The Peak but with it went the temperature so it was soon time to take the tram back down.
I took the opportunity to get a few more shots as the city slickers, obliviously attached to their umbilical iPhones, trudged their way home after another long day on the corporate treadmill.
More time to explore Kowloon and the rest of the city would have been nice but on this occasion it wasn't to be, I was flying out early the next day but vowed to return again soon.